Identity verification
Verify identity in minutes remotely from home with scanned ID documents, ID authentication, live selfie, and geolocation.
Digital identity platform
Verified ID info is secured offline in a digital wallet on the smartphone, using encryption and the phone's hardware-backed security.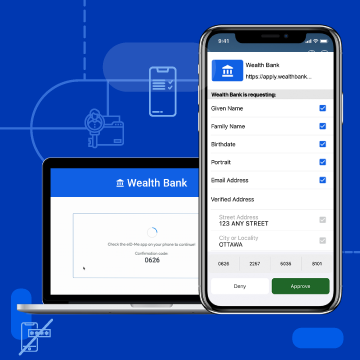 Password-free login (MFA)
Fast, easy access to services with multi-factor authentication and reusable ID info in a secure digital identity. No forms or passwords.
What makes eID-Me different?

Better usability and integration
Streamlined mobile experience. Easy ID verification in seconds. Reusable digital identity. Works online and offline. Easy integration with standard protocols.

Stronger fraud prevention
Every identity is automatically verified with ID scanning and authentication, live selfie, and geolocation. Tamper-resistant hardware security. Digital identity decentralized offline.
Best Canadian coverage
Comprehensive and growing support for Canadian ID documents, regulations, and standards. Strong Canadian and international compliance. Made and hosted in Canada.
Improve access to your services with our identity solutions
Customer and User Testimonials

"Super easy. Scanned even before I realized it scanned." "Having the most convenient identification method is best. I'd be very willing to use an app like this."
Carleton University UX Research Participants

"The faster way for our clients and the better way for us is to put in your eID number and your file gets opened automatically with your name, address, and birthdate... It gives us the assurance that the people we're talking to in their homes with no one else physically present are who they say they are."
Sanjay Soni - Founder and Managing Lawyer, Nexera Law (Now part of Diamond and Diamond Lawyers)

"What we thought would be a difficult and complex integration was actually quite simple and the minor issues and questions we had were quickly and pleasantly facilitated by the Bluink team. We've been putting off integrating with a digital ID system as most are complex (blockchain-based) solutions that are still quite far from usable for mass adoption. However, Bluink's eID-Me is simple and straightforward for users to connect to and use, so implementing it was a no-brainer for us."
Paul Marek - Co-Founder & CEO, MUUVER Inc. (Online Voting Platform)