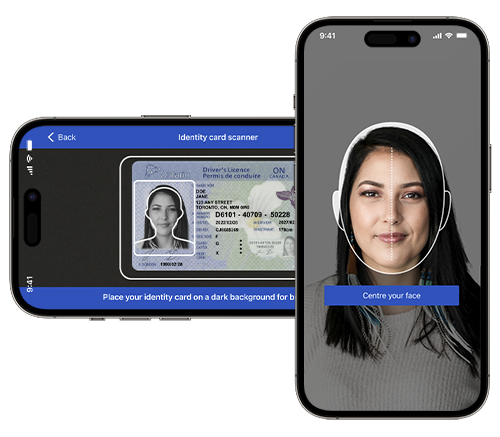 Get the identity checks you need for Canadian compliance and fraud prevention
Name, address, and age verification
Biometric face match with liveness detection
Credit bureau and mobile device account verification
Complies with FINTRAC KYC, Law Society of Ontario, and more
Integrate into your website, app, or case management system
Integrate using our mobile app, APIs, or SDK
Can also be used for in-person verification via app, POS, or kiosk
Or use our easyKYC™ service, designed for small and medium enterprises
Email clients an eID-Me link for identity verification
Receive verification reports in your email inbox
No integration or coding required
Why Canadian organizations use
eID-Me

identity verification
Complies with Canadian standards, including FINTRAC KYC, PCTF, IALs, and Law Society of Ontario (LSO) KYC requirements.
Best ID document support in Canada with over 40 supported documents (33 Canadian-specific).
Information is machine-verified in Canada. Users manage their own identity by choosing what information to share.
Reusable, decentralized digital identity provides instant verification for applications and transactions.
Each user's personal information is encrypted and stored on their own mobile device.
Top-rated digital ID app across Canada with an App Store rating of 4.6 / 5 stars (1.8K ratings), real-time feedback, and dedicated support.
Independently evaluated and in compliance

SOC 2 compliance
Microsoft Partner
10 US patents
1 CAN patent
We have partnered with Microsoft to integrate
eID-Me

identity verification with Azure AD B2C, which gives your customers single-sign on (SSO) access to your applications and APIs.

Read the integration guide to learn more.
Trusted by Canadian business and government organizations

Learn more about
eID-Me

identity verification